Air Wick "Poop" Spray Commercial…Really?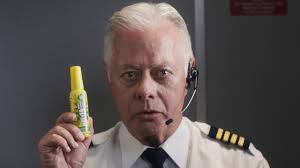 So there were are, the family has all gathered for a holiday together. The senior-most relatives are in the comfy spots. Kids are all around, some playing, others watching television with glee.
And then it pops up. Or, "poops" up, if you will.
Air Wick's new VIP (Very Important Pooper) spray rears its, well, less than attractive head.
Think back a year or two, and PooPourri.com went viral with their sweet British accented-spokeswoman chatting cleverishly about the indiscretions of bathroom smells. The spot walks right to the edge of propriety, but somehow straddles it just enough to keep it fun, and not gross.
Unfortunately Air Wick crosses the line. It could have straddled the line, but they chose not. The creatives on this thought a full frame shot of a older man, an airline pilot, sitting on the loo, with shorts around his ankle.
The 2 Guyz like funny spots as much as anyone. Heck, we've written and created advertising that gets close, and yes, sometimes crosses the line, but feel it's only worth it if you're in a competitive position to capitalize upon it. This is usually reserved for a small, unknown brand that needs to create a name for itself, and shock value matters.
Think GoDaddy.
We're not puritans here. Far from it. But we do like guiding our clients down paths of long prosperity.
Not sure this spot fits the bill.