It's Easter time…that means Peeps!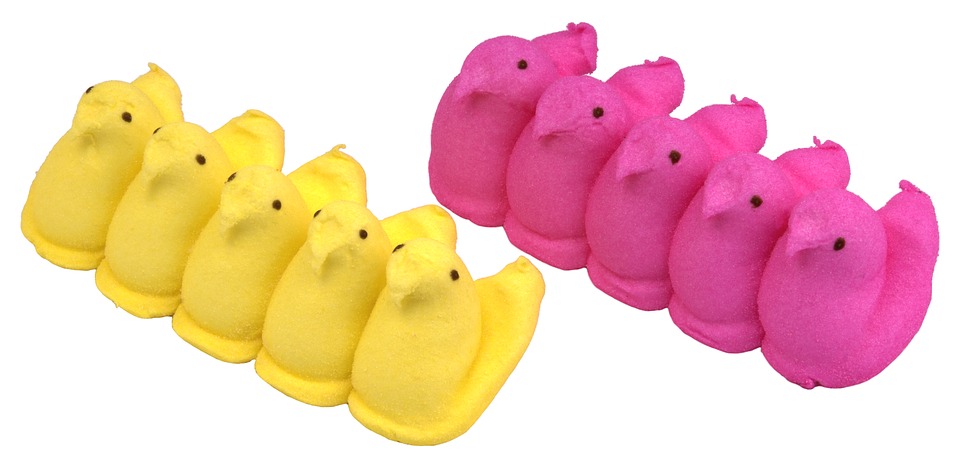 A multitude of flavors and colors.  They can be dipped in white or dark chocolate.
Do you love Peeps? That sweet marshmallow candy shaped like a chick or bunny.
The national media seems to love them.  We just watched a story on NBC's Today show. 
Larry remembers bringing them to many of his advertising and Marketing classes at USC, CSUN and Pepperdine. Both undergrad and graduate classes.
What was interesting is that for some of the students they know all about them and had their favorite way to eat them but for others, some global students, had no idea what they were.
During the Easter season, Americans will enjoy an estimated 700 million Peeps, but what is interesting to the 2 Guyz is that number hasn't changed in seven years.
But now there are new flavors. such as bubble gum, party cake, red velvet. fruit punch, sour watermelon, pumpkin, cotton candy, vanilla, orange sherbet, strawberry, coconut and sugar cookie, plus the older ones…blueberry, lemon, raspberry, strawberry, and vanilla. We teach that a product line extension is the use of an established product brand name for a new item in the same product category. Line extensions occur when a company introduces additional items in the same product category under the same brand name but with new flavors, forms, colors, added ingredients, package sizes.
Are you a Peeps fan? Curious about Peeps history?
Where they came from and how they developed into the ultimate Easter treat?
Nearly a century ago, a young Russian-born man named Sam Born was living in France, where he studied and learned the art of chocolate making. Then Sam immigrated to the US in 1910.
He opened a small candy store. As his operations outgrew his store, he moved his company, by the name "Just Born," out of New York to Bethlehem, Pennsylvania.
In the '50's, the Just Born firm acquired another company that had invented a marshmallow mold, creating Easter chicks and bunnies, called Peeps. With some fine-tuning of their assembly line manufacturing and clever marketing, Born of "Just Born" had an Easter hit on his hands.
But why were these chicks and rabbits so appealing?
Just Born was based in Pennsylvania, home to a large community of German immigrants. It's believed that the German immigrants popularized the Easter Bunny tradition in America.
Germans also developed the Easter egg basket tradition with the hopping bunny.
Now you can pick up a pack or a dozen packages online at Amazon, buy them at 88 Cents stores plus at a Walmart, Vons or Target.