Liberty Mutual Marketing A Big "Non Benefit" to Californians
Advertisers, clients and advertising agencies use research to find out what the potential customer wants. In the insurance business, "accident forgiveness" is something that was probably discovered (or at least validated) through research.
2 Guyz Larry was stunned when he saw the following legal restriction on a Liberty Mutual TV spot he was watching on Sunday August 5th. He immediately texted 2 Guyz Brian, who had noticed the very same thing…
"Accident forgiveness not available in CA."
Advertising is about finding significant, competitive product differences which are meaningful to potential customers. These potential and actual users are also known as "People," under the 9P's of Marketing. If you are a brand manager or advertising professional you want to appeal to what your customers "want."
For our clients and in our teaching, an important component of marketing is research. It is finding significant product benefits versus the competition and promoting one or more benefits to the right target market.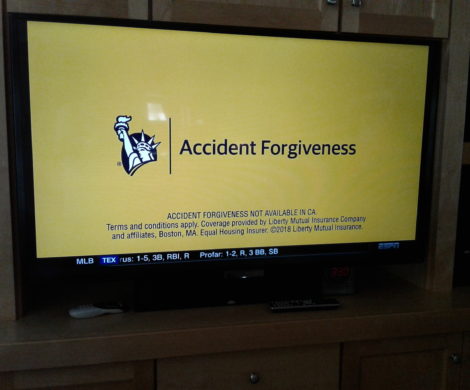 But marketing and advertising isn't easy. Many products and services are similar. So It's even more difficult finding and researching the most important benefit or a unique benefit and communicate this benefit of your product or service offering versus your competitors, in this example that would be other auto insurance companies, such as State Farm, Progressive, Mercury, Farmers, etc.
Interestingly, California has the most drivers licensed drivers of any state. In 2016, there were about 222 million licensed drivers in the United States. About 26.2 million issued licenses in California , the highest number of licenses in the country that year. (https://www.statista.com)
The "accident forgiveness" claim may be significant but it can't be offered in CA.
That's a pretty big deal.
It's probably not a mistake since this is one of many TV spots. It may be a network buy, but California is the largest market in the U.S.
The 2 Guyz wonder if it should be shown in California?  Won't there be some unhappy customers? We know there are already two!
Note: Liberty Mutual is a registered trademark of Liberty Mutual.