Wendy's Slaying The Internet With Witty Twitter Posts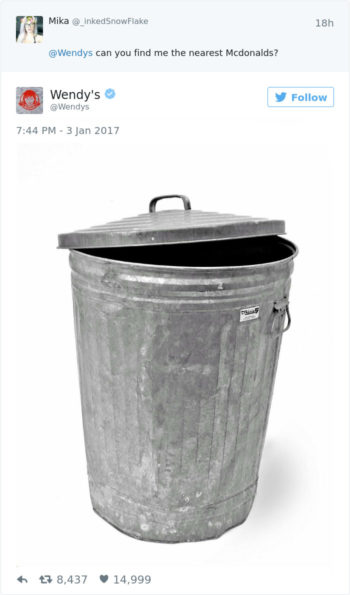 The 2 Guyz recently asked a class full of university seniors, "Which brand is kicking butt on Twitter?"
"WENDY'S!!!"  (@Wendys on Twitter). (Thanks COM 490!).
While Taco Bell seemed to hold the crown a year or two ago, Wendy's has developed a following of over 2.4 million people.
Brand and Marketing researchers know there is a correlation between social media engagement and brands, but there is debate whether people like a brand and then follow, or follow a brand and then like it.
Either way, getting millions of followers to engage with your posts, liking, sharing, and commenting, is basically a social media home run.
BoredPanda.com, a website dedicated to "showcasing the world's most creative artworks, offbeat products and everything that's really weird or wonderful", recently highlighted they Twitter genius of Wendy's.
Research does indicated witty brands can be more memorable. But it can be a delicate balance.
The 2 Guys On Marketing teach that funny is good when it is memorable, relates to the brand or product, and is within the brand character. Londre and Hemsworth also know what makes the cash register ring is most important.  It's about sales and their generation.
The Wendy's tweets walk a fine line, but they appear to be witty and hitting the funny bone of millennials. The result is that Wendy's is seen as cooler, hipper than places like McDonalds or Burger King.
Wendy's is also on a steep upward growth track, planning to add 1000 stores globally in the next two years. (Source: http://www.nrn.com/operations/wendy-s-plans-add-1000-units-2020).
How long will the Twitter halo last? Will it continue to generate sales?
What the 2 Guyz really know about fast food is that new product development is key to future success, too, but that's a future topic!
We'll keep you posted!