Ad Critique: Gucci Commercial…Really?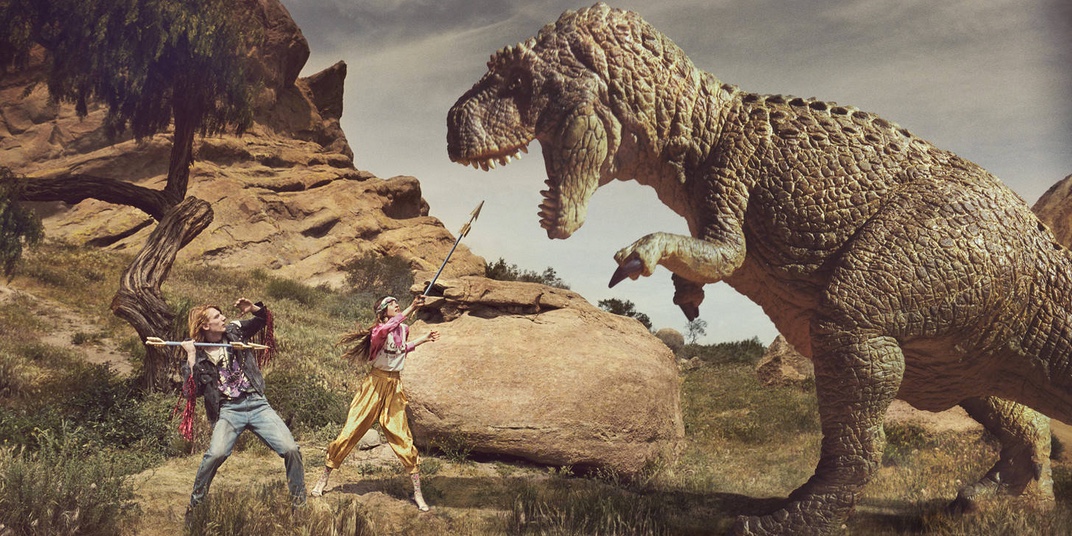 Gucci Commercial…Really?
The puzzlement comes not from the fact that it's television, it comes from, well, you need to watch it to see.
Here's a link to the Fall Winter 2017 collection commercial from Gucci.
I give Gucci props for thinking outside the box, but in marketing and branding, we also know that thinking outside the box is not always a good thing. Another way of putting it, is "thinking outside the brand." Dangerous.
When the average person thinks of the Gucci brand, what do they think of? Style. Class. Italian. Expensive.
But "Comic-Con"?
That's exactly where Gucci Creative Director Alessandro Michele did, with his 50s and 60s sci fi inspired campaign. Lensed by fashion photographer and film director Glen Luchford, the spot is a visual ode to the campy sci fi movies of the past.
That has fun with Trekkie clips, creatures, and low-budget effects. It that respect, it's quite well done. They even licensed images from some of the original works.
What's not peculiar is that it's easy to see where the creative came from: it flows right out of the designs themselves. (For more production stills and to see some of the fashion items, click here.)
So, the 2 Guyz On Marketing are definitely not qualified to critique the fashion itself. But when it comes to commercials, we've got some experience in that area.
As always, we go back and look to see if we can figure out the target audience. The first blush on this seems to be another millennial target, reaching the 20-35 something hipster crowd, who have grown up with Comic-Con being a big deal, for many on par with popular super events like Coachella, SXSW, and New York Fashionweek.
2 Guyz critic Brian poses the question: are Comic-Con lovers and attendees likely to buy Gucci? Or even more so, are non-Comic-Con lovers influenced by the "nerd/cool" factor enough to prompt a purchase?
With Gucci shoes fetching upwards of $1000, handbags for $2000, and dresses or suits going for $2000-5000, if hipsters are the target, they're going to have to cut back on $1 avocado toast and $5 skinny caramel lattes to afford their next Gucci purchase.
Gucci is no newcomer to being bold, wild, and even eccentric. From Guccio Gucci's first work in Florence, Italy, in the 1920s, he began his unique marriage of luxury and distinctive design.
In TheFashionSpot.com's 2014 article on the most controversial ads of all time, Gucci sits in the #2 spot.
The ad does get attention. For that reason, it is somewhat successful. But just getting attention is not enough. You then have to link the attention to the brand, and the brand carries with it a whole bunch of baggage. In the case of Gucci, it's back to those words we said earlier, like class, quality, and style.
When we ask first year advertising students what makes a great ad, the first answers are typically thinks like "funny", "clever", or "creative". More advanced students might venture to say, "memorable". But the most evolved students (and those who have study Ogilvy On Advertising), the will likely say, "effective".
Time, not the 2 Guyz On Marketing, will tell if this ad campaign will bring in new customers, old customers, or any customers whatsoever. Brian, for one, thinks this sci fi inspired ad is kind of fun, but not one that we will look back on as a boom to Gucci sales.
2 Guyz Larry's Counter Point, which isn't counter. It's on the same plane.
It's in the title "Gucci beyond" and I'll add the word "Logic." As in "Gucci is Beyond Logic." It's so bad it's camp like the old "Batman" on TV.
How can that sell anything? One of the most important components in marketing and advertising is "who's the target market?" Or "People" in my 9P's of marketing. Plus the animals, cows, cat and animals distract from what Gucci is trying to selling.
Gucci, I give you a "T" for "Trying" and an "O" for being "outside the box" in grading. An "L" for lack of sales generating using the tools of promotion, I'd bet.
Note: Gucci is a registered trademark of Guccio Gucci S.p.A. To learn more about Gucci, visit their website by clicking here.