Baddie Award for Bad Marketing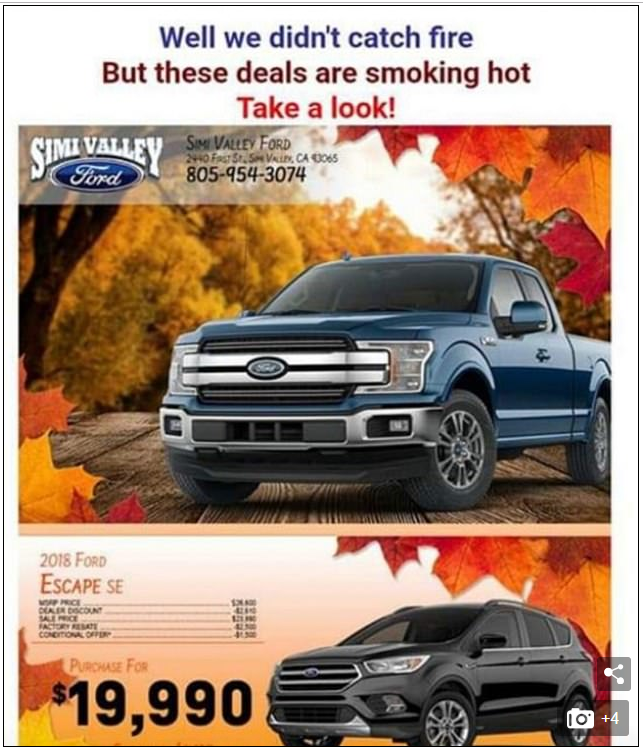 We all live and work in communities. Some small. Some large. But when it comes to marketing to our community, advertisers have to be even more sensitive during a crisis.
This ad was published by Ford's Simi Valley dealership two days ago, and reads:
"Well we didn't catch fire but these deals are smoking hot. Take a look!"
This dealer is in Simi Valley, the community that sits just to the north of the Woolsey Fire Perimeter and northeast of the Hill fire.  In fact, Simi had a few flare ups from the fires in the southern part of their valley.
What were they thinking? They are in the general fire area, and while both fires continue to burn (and neither fully contained), they ran this ad.
It's just not appropriate promotion! In fact it was just downright dumb. With at least 44 people dead from the awful fires in California, and The 2 Guyz on Marketing personally knowing several people who have lost their homes and all their worldly possessions, we rate this as one of the worst ads ever.
A spokesperson for the dealership apologized, but was it enough?  "Recently, we expressed ourselves in a way that does not reflect our values…We are sorry. Simi Valley is our home and, like all of us who live here, we will continue to assist during these difficult times."
Think before you promote during a disaster. Don't take advantage of the situation for personal or business gain. Help those affected. Help first responders. Heck, take pictures of the people you help and post on social media. But don't capitalize.
The first of what is likely to be many Baddie Awards.